Brought to you by PriceMiner and Worthpoint
QUESTION: In the process of cleaning out a house, I found a model of a sealskin kayak that measures 30 inches in length. A figure of a hunter sits in the kayak. There also are several ivory and wooden accessories. A wooden stand accompanies the model. I estimate the model dates from the mid-20th century or earlier. What is its value?
– D, Morgantown, Pa.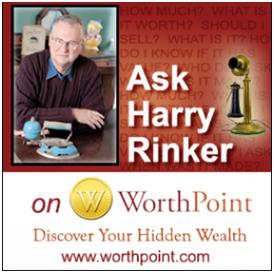 ANSWER: Retired Eskimo hunters build kayaks on a commission basis. The builder has to consider a number of physical characteristics of the owner including distance from fingertip to fingertip of his outstretched arms, height, length of each arm, and weight. The kayak had bearded sealskin stretched over a wooden frame and was waterproofed using caribou or seal oil.
An Internet search located several auction results for Eskimo seal skin model kayaks. The description for Lot 4 in the Sept. 16, 2006 Cowan's American Indian Arts Auction reads: "Eskimo Sealskin Model Kayak with hand-carved wooden hunter who wears a cotton coat. Kayak laden with ivory and wood fishing accoutrements: trap, two harpoons, ice pick, and ore. With wooden stand, length 16.25". Condition report: excellent." The lot sold for $ 850. A year earlier, an 18.5 in. model sold for $ 920. Cowan's March 26, 2010 auction included: "Eskimo doll and sealskin kayak . . . doll with carved wooden face and inked features, dressed in fur parka and with a wooden bow, height 8.5 in; AND a model sealskin kayak with carved wooden oar, length 11.5 in., second quarter of 20th century." The lot passed at $ 650.
Christie's Jan. 18, 2011,Native American Auction included an "Inuit Model Kayak, Norton Sound type, finely crafted with a single piece seal skin wrapped over a wood frame, the top edges sewn together at the front and back with woven grass mat floor. Accessories lashed to the kayak with leather thong include four harpoons with barbed ivory tips tied on with sinew, a paddle and two snowshoes made of wood and sinew. 36 ½ x 6 x 4 ½ in." Although no date was provided, the photograph suggests the kayak was modeled in the early 20th century. The kayak sold for $ 3,000.
The Smithsonian Institution's Alaska Native Collections in the National Museum of Natural History includes an 1892, approx. 4 in. "model of a Norton Sound kayak includes a full set of tools and weapons, all held on deck by sealskin cords. A seal dart rests on top of a float board, attached by a coiled line; the board was designed to drag behind a wounded seal, hindering its escape. A gaff hook and several throwing and thrusting harpoons are shown within reach of the boat's cockpit, and a spare paddle is carried on the back. Wooden frames with seal-thong lashings gave kayaks great flexibility and strength to withstand rough water."
Eskimo model sealskin kayaks with hunting accessories and often a hunter were made as souvenirs for sale to sailors and tourists from the late-19th century to mid-20th century. While most examples I found originated along the Pacific Northwest Coast, I did find one example from the 1930s attributed to a source in Greenland. Lengths varied from 14 to 36 inches.
I recommend you take photographs of your model sealskin kayak with hunter and accessories and send them to the Museum of Anthropology, University of British Columbia, located in Vancouver, B.C. Ask if a staff member can identify the time period, location and possible maker of your model.
Value in the antiques and collectibles field is information driven—the more that is known about an object, the greater its perceived value. Based on auction results, your model's base value is between $ 1,000 and $ 1,250. If it should prove to be from the early 20th century, as opposed to the second quarter of the 20th century, the value increases. Additional value add-ons are the kayak being a Norton Sound model, a full set of accoutrements accompanying the model and more detailed information about origin.
—————————————
QUESTION: I have a head-and-shoulder print of President Theodore Roosevelt. It is marked "Moffett Studio, Chicago" on the front and Lyday Photo Co. #73033 on the back. The print is in a simple molded frame which measures 16 inches by 20 inches. I did some research but found little. I am interested in selling the print, but obviously do not want to over or under price it. Any assistance you could provide would be greatly appreciated.
– J.C., via e-mail
ANSWER: Real estate developer Evan Albert Evans and photographer George Moffett founded Moffet Studio in 1905. Evans handled the day to day business matters such as advertising and billing while Moffett did the photography. Moffet Studio was headquartered at 57 East Congress Street, a property owned by Evans.
Initially, Moffett Studio sold pictures of its prominent clients to newspapers and periodicals. In 1907, Evans changed the business model and provided them for free. Moffett and George O. Hinchliffe, his colleague, quickly gained a reputation for picturing clients in fashionable settings.
In 1912, Moffett Studios obtained the exclusive rights to the 1912 Republican Convention held Chicago. The 1912 Republican Convention pitted William Howard Taft, the sitting president, against Theodore Roosevelt. Although Roosevelt won nine out of 12 state primaries (Taft won one and Robert M. LaFollette won two), Taft controlled the Republican National Committee. The Republican National Committee awarded 235 contested delegates to Taft and only 19 to Roosevelt. Roosevelt left the party and ran as the candidate of the Progressive Party. This split the Republican vote and led to the election of Woodrow Wilson.
It is possible that the Moffett Studio Theodore Roosevelt head-and-shoulder portrait that you own might have been taken during the 1912 Republican Convention. However, Moffett Studio had a New York location. A 1910 Theodore Roosevelt three-quarter length photograph done at the New York studio also was a popular print image. Since Roosevelt is wearing a different tie in your photograph, it is unlikely the two images were taken at the same time.
J. H. Lyday Photograuvre Co., located in the Hoffman Building at 2539 Woodward Ave., in Detroit, was a publisher of: "Fine Art Pictures, Reproductions of Old and Modern Masters." Simply put, Lyday was a stock house selling photograph images for display.
The demand for large wall photographs of Theodore Roosevelt is limited. Modern reproductions are available for less than $ 50. Ease of selling depends on how much you ask. You will sell your photograph quickly if you price it between $ 10 and $ 15. It will be a harder seller between $ 20 and $ 25. Priced over $ 35, you most likely will own it well into the future.
—————————————
QUESTION: I have a tricycle made by Midwest Industries in Willard, Ohio. I believe it dates from the 1950s. The paint scheme is red and white (white handle bar, seat, front end of frame and wheel rims). The handlebar resembles the prototype 1950s flying wing aircraft. What is its value?
– J.S., Adamstown, Pa., via e-mail

ANSWER: After evaluating the four pictures attached to your e-mail, I concluded the condition of your tricycle is between very good and fine. While used, the child who owned it took very good care of it.
The website Tricycle Fetish claims it is "the site for everything tricycle." It features a homepage for Midwest Industries, which includes images of three decal headbadges, one of which matches the headbadge on your tricycle, and photographs of eight tricycles, none of which match the one that you own and all of which have wire spoke wheels as opposed to the solid disk wheels on your tricycle. Although the company is still in business, Midwest appears to have made tricycles from the early 1950s through the early 1960s.
Classic Toy Museum contains an advertisement for your tricycle from a 1956 toy catalog. The description reads: "Double bar-type strong steel tubing. Streamlined steel steep plate. Disc wheels with rubber tires. Adjustable body-shaped saddle. Rubber pedals. Heavy stamped steel fork. Stamped and formed handlebar with rubber grips. Red and white baked enamel finish. Front wheel 8 ½". Rear wheel 5". Rubber tire ½"….Retail: $ 5.75." $ 5.75 was a high-ticket price in 1956.
WorthPoint lists a vintage 1960s red Midwest tricycle that sold on eBay on July 3, 2009, for $ 34.99. This example has wire spoke wheels. I found additional Internet auction listings for Midwest tricycles in the $ 18 to $ 35 range.
The "streamline" design and condition of your tricycle, which requires little to no restoration, makes it more desirable to collectors and individuals wishing to use it as a display/conversation piece. The secondary market value is between $ 50 and $ 65.
—————————————
QUESTION: I collect Department 56 houses for enjoyment and not for value. I cannot understand the big price differences I am finding between The Greenbook Guide to Department 56 Villages and prices on eBay. Many of the eBay prices are below the original retail price. How can the guide book be so far from reality?
– J.K., Timberlake, Ohio, via e-mail
ANSWER: When using any price guide, it is important to check the publication date. The Greenbook Guide to Department 56 Villages is out of print. The last edition I found was printed in 2005. It has been replaced by Village D-tails, a publication from the periodical Village D-lights. A caveat is necessary. When I tried clicking on the link to order the book on the URL http://www.terisd56.com/dept56-villagedtails.htm, I received a site under construction message.
Specialized price guides often are authored by individuals (usually dealers), collectors' clubs, manufacturers and others whose goal is to support unrealistic secondary market prices to ensure the continuing sale of new at full retail and discontinued merchandise at inflated prices. All prices guides need to be field checked.
EBay sets the secondary market for Dept. 56 and a wide range of other collector edition materials. A collector edition price guide that does not reflect eBay pricing is worthless.
Retail pricing includes the profit made by the manufacturer, wholesaler, and merchant; in most cases 75 to 80 percent of the full retail price. When an object leaves the store, these profits must be deducted to determine the starting secondary market value. When secondary market value exceeds retail, especially in the first 30 years of the object's life, the value is speculative.
Waiting until a contemporary collection edition enters the market is an ideal way to save money. Two to three for the initial price of one is the standard ratio. When the secondary market is flooded with product, the ratio can be four to five for the initial price of one.
—————————————
Rinker Enterprises and Harry L. Rinker are on the Internet. Check out Harry's Web site..
You can listen and participate in Harry's antiques-and-collectibles radio call-in show "Whatcha Got?" on Sunday mornings between 8 a.m. and 10 a.m. Eastern Time. It streams live on the Genesis Communications Network.
"Sell, Keep Or Toss? How To Downsize A Home, Settle An Estate, And Appraise Personal Property" (House of Collectibles, an imprint of the Random House Information Group), Harry's latest book, is available at your favorite bookstore and via Harry's Web site..
Harry L. Rinker welcomes questions from readers about collectibles, those mass-produced items from the 20th century. Selected queries will be answered on this site. Harry cannot provide personal answers. Send your questions to: Rinker on Collectibles, 5955 Mill Pond Court SE, Kentwood, MI 49512. You can e-mail your questions to harrylrinker [at] aol [dot] com. Only e-mails containing a full name and mailing address will be considered. Please indicate that these are questions for WorthPoint.
Copyright © Rinker Enterprises, Inc. 2011
WorthPoint—Discover Your Hidden Wealth
Brought to you by PriceMiner and Worthpoint